Blog
Here in Minnesota we spend a vast majority of our time contemplating our choices about why we stay. At least 6 months out of the year it's cold and mostly snowy. When temperatures reach below zero for several days to a few weeks, we start getting creative with our "things to-do list." On that list, I'm sure you are not telling yourself, let's ride an open-air bus? Well it's what we do here and we do it with smiles, warm clothes, and beer!
In 5-degree weather, we took this group on a custom, private craft beer and food tour to sample some of the unique craft beers and bold flavors that make Minnesota so special. Experience the Twin Cities' specialty is navigating the world of good Minnesota food, beer, wine, spirits, and sites.
For those of you who would rather be warm and toasty in an enclosed bus, we have that too.
Join us on a tour and find out for yourself why we do what we do and why we stay!
Visit us (at) Twin Cities Brewery Tours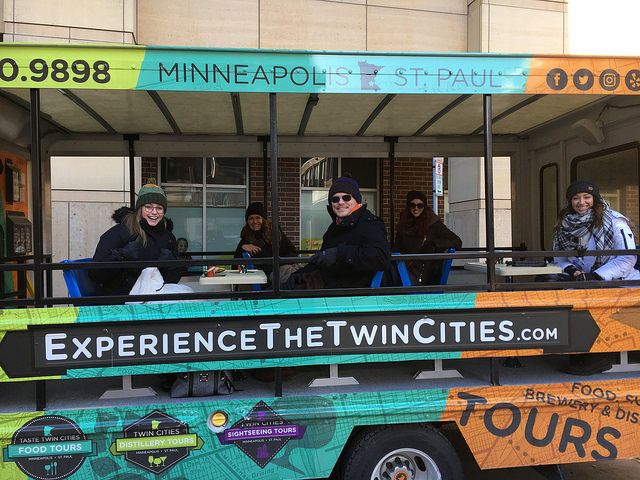 Looking for ways to be close to the action during Superbowl 2018? Experience the Twin Cities is offering 3 exciting tours that bring you close to the Superbowl action. With convenient pick up locations in Downtown Minneapolis, these tours will give you an experience to remember. Who knows, you may run into your favorite celebrities in one of these hot spots around the Twin Cities. 
FLAVORS OF THE BOLD NORTH FOOD TOUR
Hungry for a local Bold North Minneapolis food experience? Join us as we explore one of the city's trendy and historical neighborhoods, Eat Street and Northeast Minneapolis on this Bus Food Tour.
You'll enjoy sampling food from a James Beard award winner restaurant featuring Eastern European specialties, at this family owned Polish restaurant. You'll also visit "Eat Street" - serving up authentic German food from a family owner restaurant that literally started in front closet.
Other stops include some local favorite – the cheese curds, Minnesota style pizza, local candy/chocolate tours, and much more!
Along the way we'll also see the sites including the Mill City Museum, Guthrie and the historical Stone Arch Bridge and St. Anthony on Main.  You'll learn about the history of a few unique Minneapolis neighborhoods, taste and chat with other food-loving guests, and leave the tour with an appreciation of all the is Bold North.
HOP-ON HOP-OFF CRAFT BREWERY TOUR
Minneapolis has one of the hottest brewery scenes in the United States.  Come enjoy up to 7 breweries in one day and at your own pace.  Pick up locations are convenient with one location in downtown Minneapolis and the other pick up's at any of the breweries.  This Brewery Tour also include 3 pints of craft beers at any of the breweries and there is no limit/restrictions specialty, style or size of beers.
How Does It Work?
Buy – Select the date you wish to hop with us and purchase tickets on-line.
Use – We'll pick you up on the day you select at any of the stops.  Redeem your beer tokens at any of the 6 breweries.  Hop from brewery to brewery at your own pace.  End at any location.
Enjoy – Up to 7 breweries included, 3 pints included (any style, size or specialty), water and snacks on bus provided and enjoy the heated transportation.
What's Included
Daily unlimited stops at up to 7 breweries
Hop and visit the breweries on your own schedule
Pick up at any of the stops including one conveniently located in downtown Minneapolis
3 pints of beer at any breweries you select
Snacks and water provided on the bus
Cooler to store your growlers in
Fun and knowledgeable tour guide that will show you a great time and help select your craft beer
Professional driver
Toasty warm coach bus 
MINNEAPOLIS INDOOR SKYWAY SIGHTSEEING TOURS
Come see the sights of Minneapolis on this INDOOR walking sightseeing tour – no jackets needed!  Downtown features miles of indoor Skyways, which makes for an amazing and unique experience to explore and learn about the sights in downtown Minneapolis.
We'll jump in the Skyways and visit the second largest theater community as we will stroll through the "Broadway" Theater District. Other sites include visiting the Minneapolis Skyscraper that was modeled after the Washington Monument, visiting the famous Statue of Mary Richards tossing her hat and visiting the tallest building in Minneapolis that attracts over 50,000 people per day. 
You'll leave the tour with a unique fun experience seeing what Minneapolis has to offer all while learning history of downtown and soaking in the local culture.   
Tour Operates
11:00am – 12:15pm
12:30pm – 1:15pm
2:00pm – 3:15pm
Sights in Downtown Minneapolis
Broadway Theater District
Famous Mary Tyler Moore statue
Tallest Building in Minneapolis
Foshay Tower that was modeled after the Washington Monument
The largest Skyway system in the United States
The new Nicollet Mall – home of Super Bowl Live
Target Center
Mayo Clinic Square
Light rail
And more!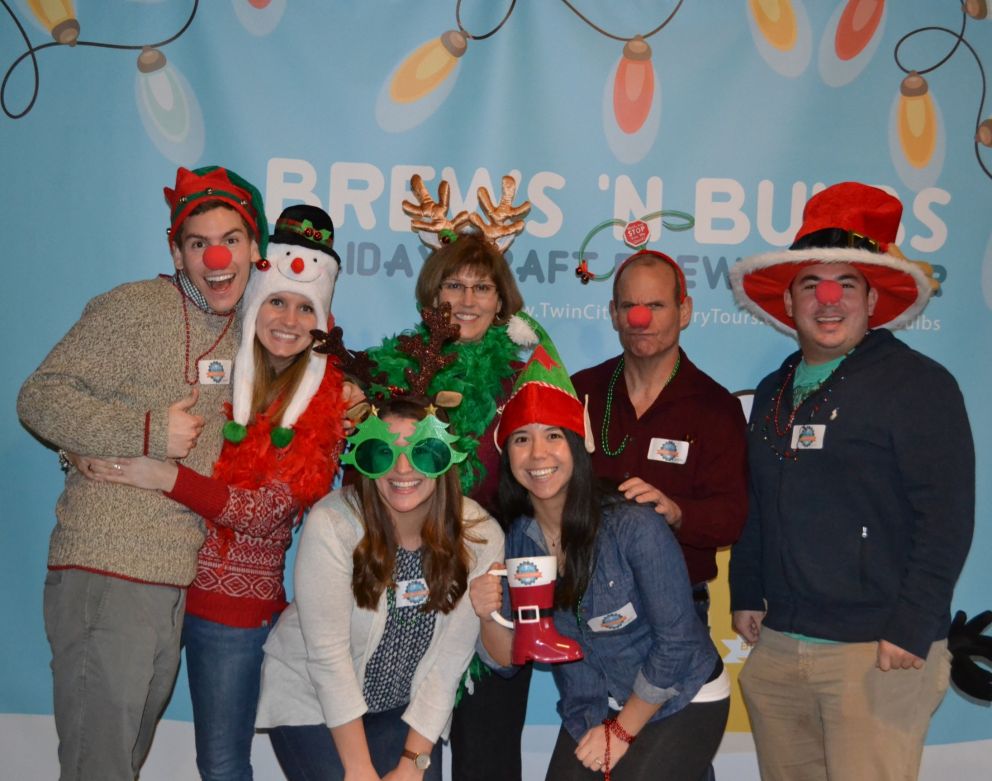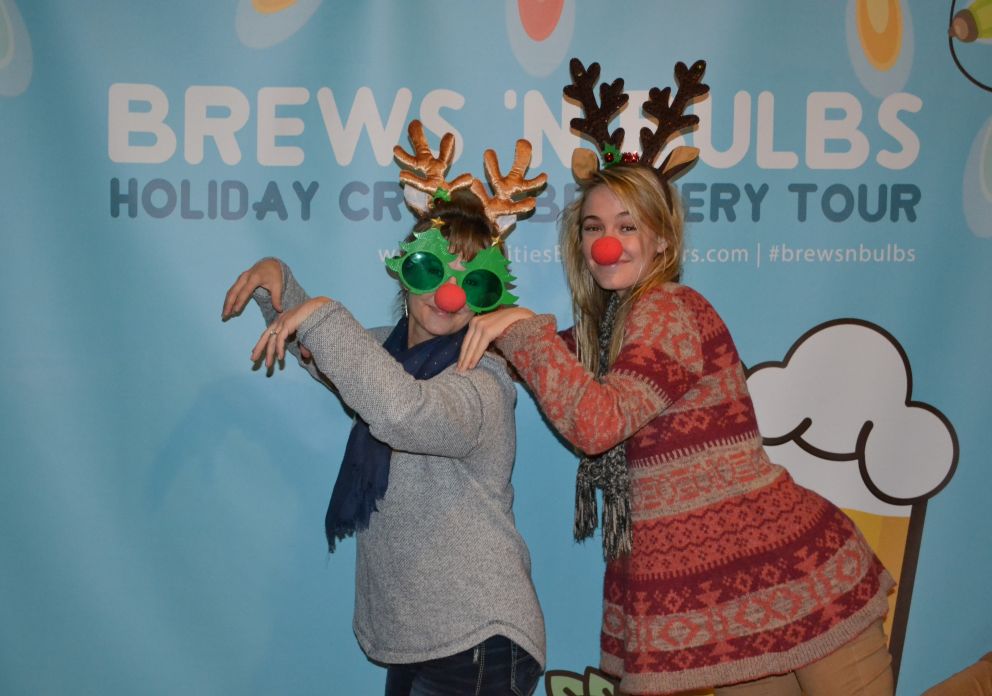 'Tis the season to be merry!  Come enjoy two Holiday traditions at once, beer and holiday lights.
Our tour includes a variety of craft breweries in Minneapolis and St. Paul, brewery stops will vary depending on the tour day.  
In-between tasting the seasonal and flagship beer selections we will take the warm luxury motor coach through Phalen Park and enjoy the Holiday Lights in the Park.  While viewing these lights, you'll have fresh holiday popcorn from Candyland that would pair great with any seasonal brew on tap.  So, make sure you get a growler to go at one of our brewery stops!
A stop at Rice Park is a great photo opportunity right in the mist of the twinkling lights.  The tour will conclude back at the starting location, where you will be able to grab another pint, sit back, and reflect on the amazing new way you just enjoyed local brews 'n bulbs.
All proceeds for TCBT admittance in the Holiday in the Lights Park benefit the Saint Paul Police Foundation, and the Saint Paul Parks Conservancy that raise funds to help meet basic life needs for children and adults in the Twin Cities metro area.