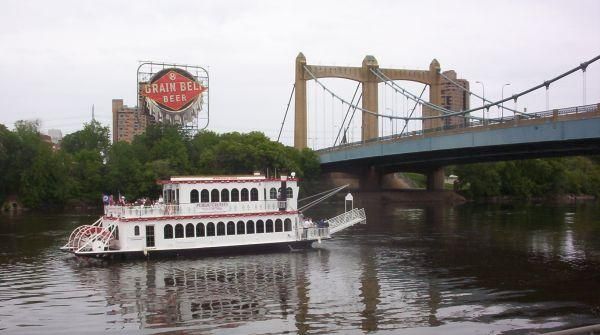 MINNEAPOLIS BREWERY AND BOAT CRUISE
New for 2019! What's a better way to spend a Saturday afternoon than on the water with craft beer? Our new Brewery and Boat Cruise tour allows you to enjoy the best of a Minneapolis summer. Board a beautiful riverboat where you'll enjoy craft beer of your choice while cruising the Mississippi River. After experiencing the bustling city from a unique and calm viewpoint, hop back on your open air bus or enclosed coach for visits to two iconic local breweries for more craft beer.
Brewery #1:  Inbound is one of the newest breweries in the North Loop neighborhood. They brew small batch beers and serve up a large variety of styles: Hoppy, Lighter, Darker, Sour, Polish, German, Belgian and collaboration beers.  Some of our favorites include Kölsch infused with Raspberry, Lemon-Ginger Belgian Blonde, and Hoppy Amber. 
Brewery #2:  Sisyphus Brewery name comes from a Greek legend. He's the guy condemned to push a rock up a hill for all eternity. Whenever it gets to the top, he must go back to the bottom to retrieve it and begin the journey all over again. Sounds rough.  That's what they do.  Their rock is a barrel of beer; it's the empty fermenters at the end of a long week; it's everything that goes on at their place.  They have a very unique brewery with rotating taps weekly. Along with the brewery they also have a separate comedy club that features many great comedians plus amateur hour.
Tour Operates
Saturdays 1:30-5:30pm (May - Oct)
What's Included
Enjoy local craft beer at each location
90-minute Mississippi River cruise - fully narrated on Minneapolis Queen or Paradise Lady
Snacks 
Bottled Water
Cooler to store your growlers in
Fun and knowledgeable tour guide that will show you a great time and help select your craft beer
Professional driver
Enclosed spacious coach or our new open-air bus
Convenient pick up and drop off location
Pricing
$85
Tickets available to purchase on-line until Thu 5pm. We can usually accommodate bookings between Thu and Sat; call us for availability!
Location
825 Hennepin Ave, Minneapolis MN 55402 - Outside of Rock Bottom Brewery in LaSalle Plaza 
Please arrive 15 minutes early to check in, make sure to bring your ID!
Wear comfortable shoes and clothes.
Multiple parking ramps are available right in the area or choose metered parking
Tour Policies
Public tours must have a minimum of 4 people booked for tour to operate.  You will receive notice the day before the tour if minimums are NOT achieved. If minimums are not met, tickets will be fully refunded or rescheduled for a different tour date.
Cancellation Policy: Since this is a high demand tour, all tickets sold are nonrefundable and cannot be exchanged or rescheduled. The tour is held rain or shine.
Looking for a private tour, wanting to celebrate an occasion or have a group larger than 12 people, please check out our private tour packages and CONTACT US to arrange for a private tour.